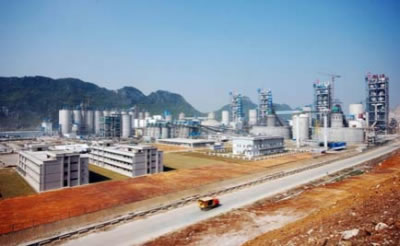 Project Overview:
Project: 6000t/d Cement Plant
Time: Sep,2003-Dec, 2004
City: Guigang, Guangxi
Company: Taini(Guigang) Co, Ltd
The whole Project includes:
The whole production line and auxiliary project carries out processes from limestone crushing to cement packaging. The line includes 4 limestone crushing systems, 4 clinker production lines and 10 sets of cement grinding systems.
8 sets of cement bulk systems, 8 sets of clinker bulk systems, 4 sets of cement terminals.
2 sets of 21MW low temperature waste heat generator systems.
After the completion of this project, the production line can produce 7.2 million tons of clinker per year, 9 million tons of cement per year and 211 million KWh power per year.
Characteristics of Cement Clinker Production Line:
Limestone Crushing
Equipped with 2 jaw crushers. The sub-raw materials like clay and sandstone are crushed by one roll crusher and one impact crusher. The iron powder is conveyed to the sub-raw material homogenization silo directly by the hopper of the crusher.
Raw Material Grinding
Adopts vertical grinding system.
Burning System
The burning system is mainly composed of five-stage preheater system with RSP precalciner kiln, rotary kiln (Φ5×74m ) and grate cooler.
Pulverized Coal Preparation System
Adopts air-swept coal mill and powder separator, as well as bag filter for collecting coal dust.