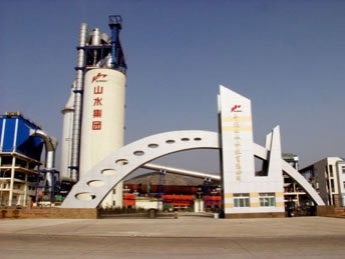 Project Overview:
Project: Dry process cement clinker production line
Time: Feb, 2003-Mar, 2004
City: Pingyin, Jinan
Company: Pingyin Shanshui Cement Co, Ltd
Characteristics of Process Design:
Limestone Crushing
The crushing system is arranged outdoors, and is equipped with a single-stage hammer crusher with crushing capacity of 800~100 t/h.
Material Transportation
Crushed limestone is transported to a closed circular limestone homogenization silo (φ80m) by 1 km long belt conveyor.
Clinker Burning System
The system adopts a dry process clinker firing system technology and equipment, including 5000 t/d preheater,calciner, rotary kiln and grate cooler.
Limestone Homogenization Silo
Due to that the plant is near to the mine, the raw meal silo is equipped with a gravity type continuous stacker and reclaimer (φ18m) with the effective storage capacity of 12 thousand tons.
Control System
Equipped with a DCS distributed PC control system to monitor and control the whole production line in order to achieve stable control, optimal operation, less energy consumption, as well as minimizing the staff needed as it operates with high efficiency.
| | | |
| --- | --- | --- |
| Main Parameters | Design Value | Acceptance Value |
| Capacity (t/d) | ≥5000 | 5538 |
| Clinker Specific Heat Consumption(kJ/kg) | ≤730×4.18 | 710×4.18 |
| Clinker Integrated Power Consumption (kWh/t) | ≤60 | 56.6 |
| Clinker 28 days Compression Strength (MPa) | ≥60 | 61.95 |