Clinker Plant
Cement grinding plants are primarily used to produce finished cement products by grinding cement clinkers and moderate mixed materials. We offer a variety of cement grinding plant production lines with an annual output of 100 thousand, 200-300 thousand, 500-600 thousand, and 1-1.2 million tons. We employ professional technicians who design optimum systems, allowing the granularity of the feed material to be reduced, and the prevalence of cracks or flaws in the cement is reduced, resulting in a high quality finished cement output with a low energy consumption.
Applicable materials: limestone, calcite, talc and dolomite
Contract project of cement grinding plant with annual output of 1 million tons: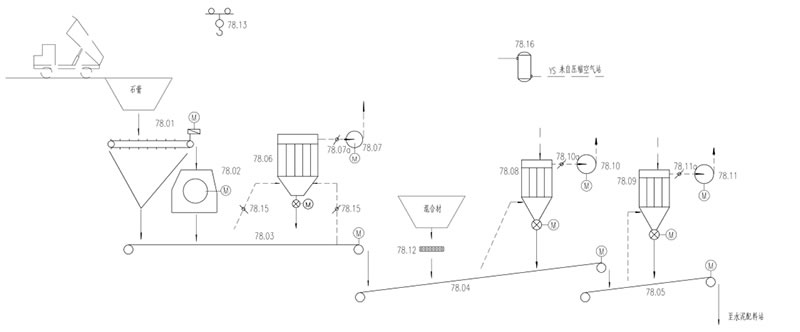 Crushing
Gypsum and mixed materials are transported to the plant by trucks, then poured into the raw material warehouse for storage. Gypsum in the warehouse is then transported to the hammer crusher using a forklift, then the crushed gypsum is moved to the gypsum stockpile using a belt conveyor in a batching station. The mixed materials are then transported into the hopper using a forklift, the finally moved to the mixed material stock pile in the batching station.
Cement Batching
The cement batching station is equipped with one Φ10m clinker stockpile and three Φ8m mixed material stockpiles. Two sets of quantitative feeding devices are installed at the bottom of the stockpile to discharge materials according to specific proportions, and the discharged materials are then conveyed to the cement grinding system using the belt conveyor.
Slag Powder Storage
Equipped with one Φ12m slag powder stockpile. The slag powder is transported to the plant via truck, and pumped into the stock pile for storage. Slag powder is then conveyed to the cement grinding workshop using an air conveyor.
Cement Grinding Mill
Equipped with 1 set of Φ1600×1500 roller press and Φ4.2×13m cement grinding equipment. The cement raw materials are transported into the ball grinding mill for grinding after being squeezed to a certain size by the roller press and being separated by V-type separator. The discharged cement materials are then moved to a highly efficient separator using a bucket elevator and air trough conveyor. The coarse powder is conveyed back to the ball grinding mill using the air trough conveyor for regrinding, and the fine powder is sent into the large concentration bag dust collector with airflow, then is turned into finished cement. The finished cement is then transported to the cement warehouse through the air trough conveyor and bucket elevator. A purified exhaust gas is discharged into the atmosphere using an exhaust fan on the powder separator.
The exhaust gas from the ball grinding mill is discharged into the atmosphere using an exhaust fan at the end of the ball grinding mill after it has been purified using a bag dust collector. The finished cement in the warehouse is conveyed to the bulk cement truck station and cement packaging workshop through the use of an air trough conveyor and bucket elevator after being discharged.